The conversations between Farmers' Dialogue teams and in the monthly FDI meeting show how small, local initiatives are addressing the challenge of climate change - something farmers around the world are facing. Here are some examples of experiences and ideas from our teams and members, in order to stimulate and inspire others and show what is possible!
Shashika de Silva (Sri Lanka) reported earlier about some of his initiatives with farmers:
'… For the last two months we are implementing an organic farming project in five districts. 80% of my time and energy are dedicated to that project. We are slowly building our farmers network around the country.

We have done five-day residential program for 9 young people on traditional organic farming and ethical leadership. Among them, were two young mothers and two girls (all under 26) and one guy. They are now working in few districts spreading the ethical/traditional farming. The project name is "Establishing ethical organic farming villages in Sri Lanka".

We have been forming farming societies under our name and educating them on our methods of traditional farming. We are planning to do a farmers' conference in a few months time and farmers exchange programs (North-South). There are great challenges for this project: holding farmers into organic farming – finding market for organic products – keeping the quality and standards – operation capital – less governmental support – attitudes of people.

As I see it, "Social enterprise" is the only way forward at least for next five years.'
This gives an idea of what we are trying to do on the farming front, and we need help on funding these activities (seed grant or investment). Ideas or suggestions are welcome! All the challenges we are facing become a great learning journey as we move forward.
Jayashree Rao (India), in charge of Grampari writes: 
'In the villages around Panchgani, we have been directly hit by what is now called excessive rain drought. Many farmers lost their crops because of the rain that continued well after the usual period. One interesting thing observed was that one crop of legumes plant variety survived the excessive rain because of the use of indigenous seeds and organic farming, while farmers who used chemical fertilizers lost their crop.

One other problem faced by farmers is wild pigs that come and eat up or just destroy crops. We have faced this problem at Asia Plateau and Grampari.

Grampari is now working with 3 villages to improve their water situation with different interventions that include contour trenching, tree planting and mud check dams as well as constructing gabion structures to stop soil erosion, all this because we are part of the western Ghats. Some of the farmers who have started cultivating organically have found good markets helped by Grampari.

Another successful intervention has been 7 farmers deciding to do collective farming. Of course, issues have arisen as to who works more or less. These have often got resolved by quiet times. Their vegetables are now ready for sale and getting sold at a good price: this should encourage them.'
Pierre Lokeka (DR Congo) is in contact with small farmers through the Kitumaini Centre. He writes:
The climate issues have many consequences around the world, and with local specificities. For us, it's rain and floods that bring death for people. When it starts raining, we get afraid. In my city, since December till today, we have had already more than 40 people who died, many others wounded, a lot of material damage due to the flood and landslides. The day before yesterday, 10 people were killed and 80 houses damaged.
Across the country, we count more than hundreds of death. People cannot work in the fields and the swamps there, they do not know how to cope with the situation, because the ground is wet or flooded preventing any fieldwork. Farmers are watching their crops getting destroyed from day to day.

With our organization Centre Kitumaini, we started to organize training on the importance of tree planting to protect the earth, fight against landslides...  Children and women are made aware of the importance of trees, because wherever there were trees on hills, currently these hills are bare, because of the cutting of trees to get firewood. We are also in the process of educating women on the manufacture and use of improved meals that use nothing but small branches to cook food, with the aim of limiting the destruction of trees for firewood in the village.
We hope, as soon as it can be financially possible, to help the villages, household by household, to set up this improved oven that uses only small branches, while waiting to find better alternatives.
Jim Wigan writes about possible solutions to the issues faced by farmers, with the essential element that food is vital for humanity:
'Realities today:
Without food society crumbles - The world's population is growing.
Soil erosion and falling water tables are limiting our ability to produce food.
A growing gap between city and country dwellers increases the misunderstanding of what is involved in restoring the situation.
Climate change is a challenge for all farmers.
Methods that contribute to a solution:
No till farming and continuous ground cover.
Robots that map the land for nutrient levels. 
Developing additives to food for livestock to reduces the methane produced.
Developing methods to control weeds without the use of chemicals.
Well-tested use of GMOs
Aquaculture. '
Luigi Dall'Olio, who retired from his partnership and activities on a cooperative farm in Italy, shares his views:
'Agriculture and Farmers are interested in climate change and its impact on them. They may feel it even more in the coming years. The 2 biggest problems of climate change are often drought and floods. Here in my area – Emilia Romagna in northern Italia – we, farmers, have changed and adapted our habits and our cultivation methods: 
Irrigation and watering of some intensive and extensive crops are not always possible or profitable: this is true for cereals, sugar beets, alfalfa, and other products for seed production. 
We have advanced the seeding period in order to limit the damage of possible drought, even if it involves the risk of freezing and cold.
We have reduced the expenses as much as possible: weeding intervention on fields if it is not strictly necessary in order to avoid drying the land even more because of evaporation.
We set up localized irrigation for orchards, vines, and even for potatoes, onions and all vegetables.
It has become more difficult and complicated to produce and make a minimum profit needed to survive in Agriculture. Now only the strongest and largest agricultural estates can remain open.
Climate change is becoming a huge problem that radiates to the whole society in a way it never did before, beyond agriculture itself!'
Pavel Belotserkowsky (Crimea) is running a 1000 ha crop farm. He says:
'The only problem I can see is the drought, which we got for 3 following years. There is not much I can do on this. One solution could be that the countries reduce their greenhouse gas emissions and accept the Tokyo protocol, including the USA. I am considering new approaches like keeping the soil covered, finding resistant varieties, like no-till technology or minimal tilling, but this is a big change because it involves changing equipment, adapting the crop rotation, and it needs funding!'
Mojisola Owolana (Nigeria) tells about the effects of climate change on fishponds: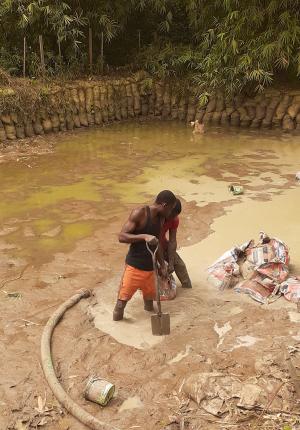 'This fishpond was established in year 2011 and got adequate supply of fresh water from a nearby stream. However, in the past two years the pond has gradually dried up because of the shortage of water from the stream which itself had shrunken due to the lack of adequate rainfall and to the severe hot weather.
The solution was to re-dredge the pond and supply water from water vendors.'