Feed the world - Feeding DR Congo
The international Farmers' gathering started on the morning of 18 November in Bukavu (South Kivu in DR Congo) with 80 participants coming from 10 countries.
The governor of the Province of Kivu asked Mr Jean Muhiro, his minister for Home Affairs, to come and open the debates. In his official opening speech he expressed his joy to see that Farmers' Dialogue has chosen this region to hold the meeting.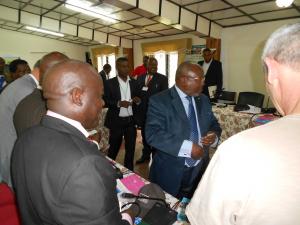 'This is the beginning of peace, as peace can only come about through such meetings. To think about Agriculture is to think about life,' he said, 'it means that supporting Agriculture is a way to contribute to the strengthening of life.' During the following meal, he showed great interest in Farmers' Dialogue hoping to get to know it better and have more collaboration.
On Thursday 22 November, he will come back with the Governor and the Minister for Agriculture to listen to the conclusions of the gathering, with the governor giving the closing speech.
Photos by Claude Bourdin