'Farm Women Empowerment and Remunerative Technologies'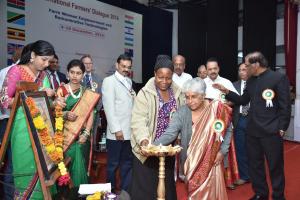 The International Farmers' Dialogue was officially opened on Thursday 4 December 2014, in the main hall of Akola PDKV Agricultural University, by Doctor R.G. Dani, its Vice-chancellor and by Mrs Jayashree Rao, director of the Grampari Rural development training centre in Asia Plateau - Panchgani.
The President of India, Shri Pranab Mukherjee, sent a message of support and congratulations for the initiative, and his best wishes for its success. Representatives of the Maharashtra government, Members of Parliament and some 200 students were present at the inauguration.
'Be the change you want to see in the world'. This quote from Mahatma Gandhi is important for Initiatives of Change and for Farmers' Dialogue. It is also relevant for rural development. Where do the farmers get their motivation from, when faced by so many difficulties, and in order to fulfil their task to feed the world?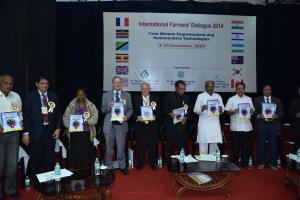 Twelve countries in all continents are represented in the gathering that is taking place in Akola for the first four days, and then will continue in Asia Plateau – Grampari for the concluding three days.
Friday 5 December: A farm visit to a distressed village and meetings with some families there made a real and thought-provoking introduction to the huge challenge of suicide in rural areas. Care for people in need in rural areas, local opportunities for people to share what they go through, better official care given to farmers (policies, prices, recognition …), all this is essential if one wants to reduce the suicide rate among farmers. The role of women, important but not always properly recognised has been outlined. These two subjects opened lively discussion.
The exchanges and sharing of experience will continue, hoping that it can stimulate personal and corporate initiatives in order to better feed the world while ensuring sustainability on the farm.