No front page content has been created yet.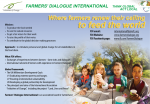 Persistence that yields results

The commitment of Muna Ismail, originally from Somalia, to restore farmer's livelihoods in dry areas is resulting in pioneering work. She is convinced that yeheb, a unique dry-land wild and domesticated crop, could be a part of the future for food security in the arid lands of the Horn of Africa.